Anna Schuessler is a learner and a teacher. She graduated from the University of Texas at Dallas with a degree in literature. She has taught every subject at every grade level, with students from every continent, except Oceania (although some of her former students now live there), and has taught in three languages: English, Spanish and Chinese. She likes sewing, reading, video games, cake decorating and writing. 
"I see myself as a story person, and I want to be able to understand people. I like to be able to hear their stories and see what makes people think the way they think," said Anna. "I have always been a reader. Once I started reading I didn't stop. I love reading. I love finding good stories in any format, be it books, movies, TV shows, video games; and I particularly enjoy stories that are coming from different cultures." 
"One of the books that really shaped me was Little Women, by Louisa May Alcott," Anna explained. "I relate so much to Jo. So much! With her being a writer, and her temper, and how quickly she forms relationships, and going deep and how that works; seeing the struggle of how to find my place in a world that is not necessarily made for me. How do I make myself better–not to change for someone else–but because I want to?
"Another influential book was Anne of Green Gables, by Lucy Maud Montgomery. I read it with my mom when I was 5, and again in high school." In that book, people are telling Anne that she has to grow up and act a certain way: go to college, get a job, get married. "Anne has been through much, has amazing imagination, has joy and love of life." Her ability to get through the struggles, hardships and obstacles, and keep the core of who she was taught Anna, "I can keep my joy of life, and I can keep my childlike wonder into adulthood. That doesn't make me less of an adult or less of a person.'
In college she took a semester off and went to southeast China, for six months to work as an English teacher at a language training center which helped high school and college students prepare for educational opportunities in the United States. After college, she went back to teach two more years at an international school. She began as the secondary English, history and music teacher, but ended up teaching all the other subjects too. "If you had told me when I was growing up that I was going to teach chemistry and algebra, I would have laughed at you and called you insane. I taught that. That was a year.
"One of the big lessons that I have carried on is: regardless of what situation you are in, you need to treat people decently. There are three groups of people you should always treat with utmost respect. If you do that so many things are going to get smoothed over": 
"bao an"s. In China, these are the gate guards who keep track of the security of apartment buildings, cars, motorbikes, and package deliveries. In our culture, they might be like secretaries who know everything that's going on in their offices, or security guards who know what's happening on the street. "They are there every day, but you walk right by them and don't necessarily take time to talk to them or get to know them. But if you do, so many doors get opened."
"A yi"s. Literally "aunts", but they can be any older woman you see in the community. In China, they are grandmothers who make time to talk to you while you share a cup of tea. Or the women who clean the school, pick up recycling, or do other "low skill" labor. "They are amazing people who are doing an incredibly difficult job and deserve so much more recognition than they get. Treat them like people, and it makes life a lot easier. Talk to people, treat people with dignity and you are much more likely to get help." 
Shopkeepers. These keep the economy going by providing needed goods and services. In China, people tend to mind their own business, and take care of those in their immediate circles. One time when she needed help, a shopkeeper came to her rescue. "The fact that this guy stepped out to defend [a stranger]–and a foreigner– was a huge thing." She learned, "You've got to be nice to the people that people tend to not look at. It makes life so much easier; and it also makes life so much more interesting. 
Teaching was for Anna, the natural result of being a good student. She actually liked doing homework! "I like going down the internet rabbit hole, and I like research. The internet is amazing!" she exclaimed. "I like learning about things, and I like figuring out why things work." She calls these "deep dives". "One deep dive that is pretty consistent is langage. I love figuring out how languages work. When you understand a language, you are much more able to understand the culture and where a person comes from."
She explains that both Spanish language and culture are very linear, practical and direct. Chinese is very cyclical, as evidenced in dynastic cycles, reverence for elderly people and ancient traditions. English is a melting pot of all the other languages and people groups. "We took all the vocabulary and all the rules from other languages, and it doesn't matter that it contradicts itself. English is the Frankenstein's monster of languages; it is the meme of three otters and a trenchcoat. It's just a mess, and I have to teach this thing!" she laughed. "There are no simple answers for English."
Another of Anna's deep dives is history bounding. "History bounding is where you take historical clothing and historical clothing styles but modernize them so you can wear them in a modern wardrobe. I've seen a 14th century kirtle (an undergarment that supported form and fashion) turned into a day dress. I've seen a late 16th-early 17th century French court gown turned into a summer dress." She came to the interview wearing a 18th century men's shirt (a white broadcloth pirate shirt), hand stitched while she was a hall monitor during state testing at school. It was paired with a modern red and white patterned walking skirt popular in the 1890s.
Last Halloween, she made a suffragette outfit. This year, she's attempting a genderbent Shakespeare outfit from the famous Droeshout portrait, created in 1623. In order to accomplish that, Anna will take the outfit he was wearing, translate that into female clothing from the same period, considering the layers, patterns, sizing, colors, fabrics and sumptuary laws of that day.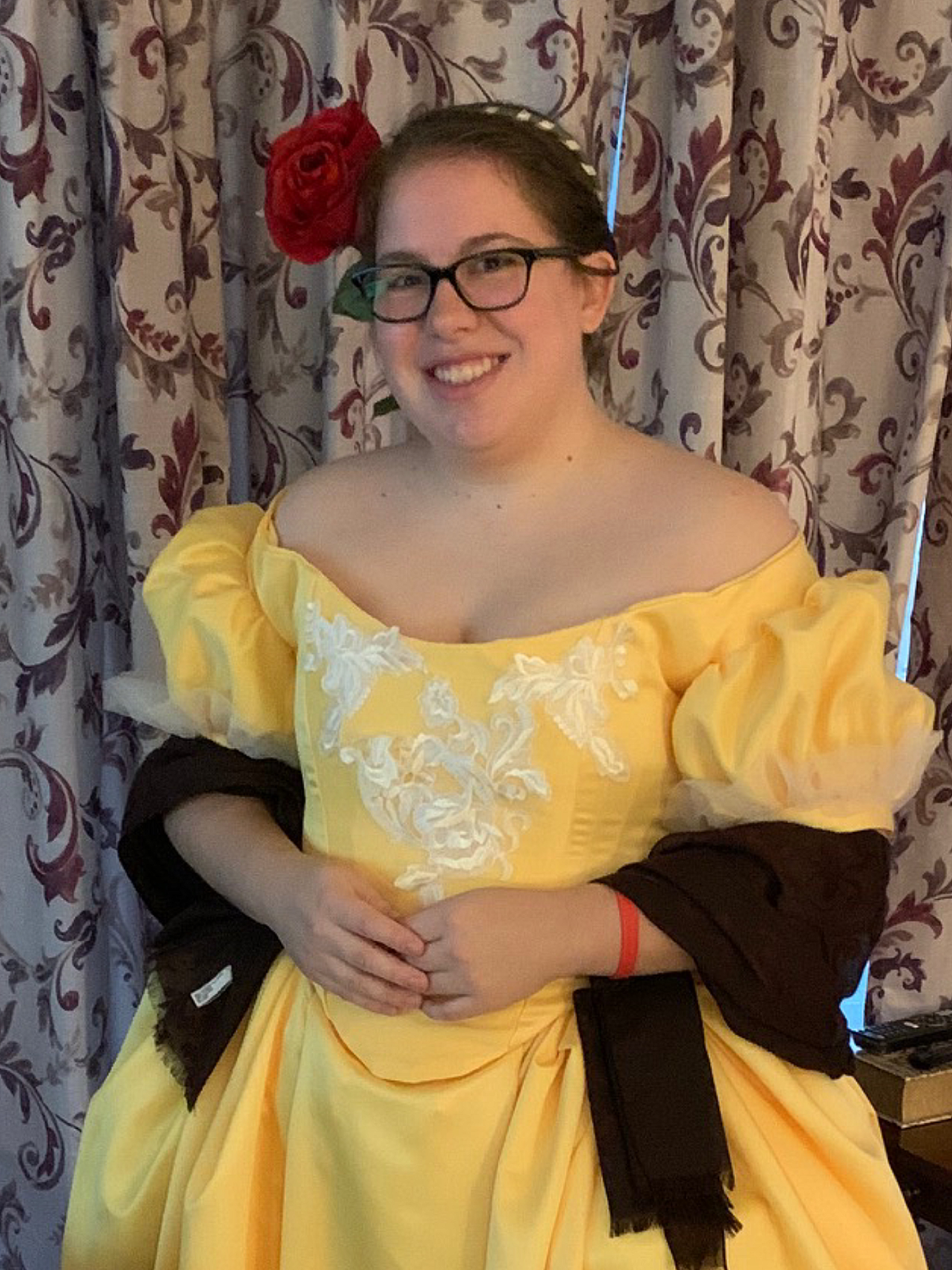 "The sumptuary laws of the 1400-1700s, based on your gender and class, determined what colors, fabrics, and types of trends, styles, and undergarments you were allowed to wear," Anna explained. Velvet could only be worn by the rich; gold, by direct royalty; gold cloth, by king or queen. The type of corsets and skirts denoted one's status as peasant, middle class, merchant, courtier, knight's family, or royalty. "Shakespeare was either upper lower-class, or lower middle-class, but technically a member of the court of Queen Elizabeth. So in that portrait, he's wearing things that he wasn't really allowed to wear. Literally, you could be jailed, or definitely fined, if you were impersonating someone of different social class." So there is such a thing as fashion police! "[History bounding] is more about patterns, shapes, proportions, and using existing garments to get an idea of [the original]. That is one of my big deep dives for the summer.
"Another current deep dive is Spanish, because my position at school is changing a little bit." In the fall, Anna will be welcoming the "newcomers", students who are new to the country who have three or more years of an education gap, but because of their ages are placed in high school. Anna believes that her experience of being immersed in the Chinese culture has uniquely prepared her for teaching these students. "Whenever I tell them, 'I know that you can do this because I have done this. I understand where you are coming from', it makes them more willing to work and more willing to try."
Anna's advice? "Look at people. Listen to them. Learn their stories. Everyone has something that makes them tick. Everyone has different experiences, different cultures, even if you're living in the same city, the same state or the same country. People have different experiences that will lead them to think in a different way. So many of the issues we are seeing right now are because we don't listen to what other people are saying."
REFERENCED RESOURCES
Anything by Jane Austin, especially Persuasion
North and South, Elizabeth Gaskell
Anthropecene Reviewed, John Green 
Little Women, Louisa May Alcott
Anne of Green Gables, Lucy Maud Montgomery
Patterns of Fashion, Janet Arnold