Trent Parker found everything he was looking for in his own backyard: identity, purpose, a place to belong, meaningful work, a close-knit family, friends and fun. Trent, who was born and raised in Grand Prairie, Texas, is happy to be right where he is. He says, "Whenever I say stuff like that, people sometimes give me a crazy look. I've been here my whole life. I love it here. It's where I want to be. Grand Prairie is part of who I am."
He graduated from Grand Prairie High School, married his high school sweetheart, has three daughters, and is helping build the family business, Don Juan's Romantic Mexican Food, a fixture on Main Street in historic downtown Grand Prairie since 1966.
The store has made only a handful of changes since it was converted from Griddle System, a burger stand that featured carhops on roller skates. There's now indoor seating, counter service and a drive-thru that was the first in Grand Prairie. "If it's not broke, don't fix it," Trent quipped. "We've been successful thus far, so why would we change? The drive-thru is really good, and is lined up out to the street every Thursday."
Don Juan's offers Mexican fast food, including burritos, chalupas, enchiladas, and nachos, happy hour soft drinks, and daily specials, the most popular of which is Thursday's tacos. On September 18, Don Juan's will be celebrating 55 years of business by selling tacos at the same price they were in 1966: 19¢ each.  "We're ready for it! 19¢ tacos all day long," said Trent. "We'd done it for our 40th anniversary and our 50th anniversary. It was a day! We had such great support from the community over these 55 years, we just want to give back to everybody who supported us. We want to make sure everyone knows how grateful we are."
Last year the Parkers opened a second store. "My dad always talked about opening another one," Trent explained. "Then we found the building in Payne Springs. It was just right. Everything came together like it was supposed to, and we started to move forward. We've got it down to a science, for sure. The new location is very similar to the old one. We have our specific system–our way of doing things–and it's been working, so we wanted to do it exactly the same way. We had the whole family to help get it going." Trent's father John, and Trent's younger brothers Ethan and Mason run that location. "Here I am in Grand Prairie, with my Uncle Jim," Trent said.
In addition to family, there are employees like Dora Gutierrez, who's been working at Don Juan's for 20 years, 5 years longer than Trent. "My dad has always said, 'You take care of Don Juan's and we'll take care of you.' Dora's taken care of Don Juan's. She is as much a fixture at Don Juan's as I am, really," Trent said. 
Many of the other employees are from the nearby high school. "Most of the time it is their first job experience. We love that because we love to establish a work ethic with our employees. My dad always drilled into me and my brothers and my sister, "Anybody can come in and do anything halfway, or do anything good once or twice, but what's hard is doing something at an excellent level, consistently, over and over for a long time." We exemplify that with our employees. A lot of kids haven't been in that kind of setting before, or even if they have, haven't had anyone hold them to that kind of standard." Many former employees have returned to thank Trent for teaching them how to work and to tell him how much that training has helped them in their present jobs. "I love that. I love being able to be someone who helps people. It can be just a job, but it can be more than that. Just like being a fixture in Grand Prairie; we're just a restaurant, but we're not just a restaurant. We're something that people can identify with, something that can help shape people, people can come together on, and enjoy together."
Trent continued, "As far as employees go, we've had generations of people come through." People who worked at Don Juan's years ago, and have remained customers over the years, are now sending their kids to work there."We put a maroon t-shirt and maroon hat on them too, and get them making some tacos," Trent said. "It's great working with the kids. It can be frustrating at times, but being able to watch them grow, to help shape them is really fulfilling, and it's something I'm really enjoying."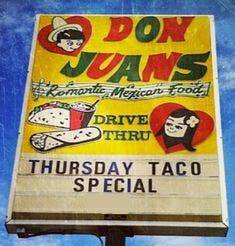 "Working with anybody can be a little frustrating, especially working with family," Trent added, "but there's nothing like working with family. You can rely on each other much more than you can rely on anyone else. We support each other. That's something you can't get outside of family. You give each other whatever is needed. You've always got someone there to fall back on, someone there to help you out. I'm really lucky to work with family." 
And of course, a big part of that is working with his father. "I definitely had a great example–my dad owning the business, and growing it into what it is now," Trent explains. "It took a lot of sacrifice and hard work, and he showed that every day. He provided a great example of how to do that. And he is always full of little nuggets of wisdom. He's a great teacher. He's the hardest worker I've ever seen. Nobody works harder than John Parker, that's for sure." 
"Running the business has opened my eyes to a lot and has made me grateful for my upbringing and all the hard work it takes. I'm really grateful for everything I've got," Trent said. "We're living the American Dream now. The whole American Dream is to start a business and pass it on to your kids. I am so fortunate to have that passed on to me. I hope to keep it going to pass it on to my kids too. Hopefully they will want to keep it going when they get to be my age," Trent said. 
Trent also values being in community with people he's known his whole life. "I get to see old, friendly faces all the time; all the people I used to go to school with, and all the people I knew growing up will come through, they'll say hi, I'll get to do a little catch-up… I've always loved that." 
So, how does Trent get his kicks after hours? Judo! "I started doing judo when I was 6 years old." His brothers and sister did it too. Their coach came from Japan, started a school in Texas, and created a name for himself in Texas judo. "He was like a grandfather to me, very formative in my life." Trent said. "Similar to my dad, he taught us self-discipline, persistence, determination, old classic values." Trent continued, "There's something about being a young kid and competing that is very important. I'm very competitive, anyone who knows me knows that. I'll turn anything into a contest, whether it's thumb wrestling or judo. It's part of who I am, the competitiveness, and the drive to challenge myself and test myself. Judo has been pivotal. It was a lot of hard work growing up, a lot of hard training, but I loved it. 
"We were big competitors too! We were nationally ranked one year. I tied for #6 in my weight division, Mason was #3," Trent said. "I was fighting the Olympians. I wasn't beating them, but I was fighting them. We fought hard. Ethan was a big fighter too. And Samantha fought hard also. Three times a week, working hard and going to school. We were busy as kids."
"And we're getting back into it now. I did it for 12 years, took a little break, then when my kids were getting old enough to start doing it, we got right back on the mat," Trent said. "I'm debating now about competing next year in the masters international judo tournament in Florida. I'm starting to do training for that. I like to keep challenging myself. Personal growth is really important. The kids will be fighting in the tournament there too. Judo has been very formative, just  as formative as Don Jaun's has been."
"I love being in the place I am," Trent said. "We have a legacy here. I love being part of something that is bigger than me, and going for generations. I want to keep that up. I want to keep that going."