Linda Albrecht, owner of Foxhorn Kennel, didn't grow up with dogs, but when she got married there was a 3-month-old Westie at the wedding. "That should have been a clue about how my life was going to go," Linda laughed. Her husband, who grew up in a dog-loving family, could hardly wait for a dog of his own, so right before Christmas, he asked Linda if she wanted to go shopping. Since he wasn't much of a shopper, she was suspicious but agreed to go. They went to a pet store, saw and played with a purebred wire fox terrier that was "cuter than cute. He looked at me and said, 'Can we have her?'" Linda sighs. "What was I going to say? We gave her the official AKC (American Kennel Club) name Albrecht's Suzie Homemaker because she made our house a home."
"Wire fox terriers are December dogs; they bring joy to the world!" Linda exclaimed. "They are inquisitive, they have a lot of spunk, and they are joyful. They like everybody. Your life is just not boring when you live with a wire fox terrier."
"We loved her, and she loved me and wanted to be with me, so she ate everything that had to do with me including text books, mechanical pencils, glasses… The first two years were not good." One day a friend at work asked how things were going, and Linda confessed, "This dog is driving me crazy." But she added, "God has a way of taking care of things. This lady, whose parents bred fox terriers, said 'I can help you with that dog', and what she meant is she could help us. So she trained us how to take care of dogs, including a wife fox terrier."
Linda's interest in dog shows began with her daughter Christy, who loved watching dog shows on TV. She kept begging to go to a live show, so when the Texas Kennel Club celebrated their 100th anniversary in Dallas, they went. When they saw the fox terriers in the ring, they were surprised to discover that none of them looked like theirs, and they decided they needed to learn how to better groom and handle their dog. They read books and magazines, attended more shows, and talked to people at the events. They picked up the lingo, pet products, pro tips for grooming, training, handling and presentation. And they made some lifelong friends.
When the breeders saw how interested Christy was in the animals, in and out of the ring, "they all wanted to give us a dog. For a long time, when I came home from a show without a new dog, I thought I was successful!" Linda jokes. Then in 2001, they purchased their first show wire, Foxfyre The Vicar at Foxxrun, and Christy showed him. The Vicar became a finished champion and earned Christy many junior showmanship wins, from Maine to Washington. "We put 200,000 miles on three minivans. You see so much more when you drive, and you make so many memories along the way. There's time for talking in the car, and we've talked about a lot of things. We've seen a lot of places." Their favorites are close to home: Dallas, Houston, San Antonio, and Camden, Arkansas.
After The Vicar won the Texas Kennel Club Show in 2002, Christi showed a client's dog Pogo, who won the Top 20 Parson Russell Terrier in 2007, and made the cut at the Westminster Kennel Club show in 2008. They started their own breeding business, Foxhorn Kennel, and began to breed wire fox terriers and border collies. Their border collie Bump won the Bred by Exhibitor Class at the Border Collie Nationals in 2014, and the Trinity Valley Kennel Club Show in 2018. Only (so named because it was the only pup in the litter) won Best of Winners in Border Collies in 2018. Their wire fox terrier Olivia won the Rally Novice Obedience title in May 2016, the Canine Good Citizenship title in June 2017, Trick Dog Novice title in May 2019, the American Fox Terrier Club Varsity Award in 2020, and the Wire Fox Terrier Club of the Central States Versatile Wire Award in 2021.
Along the way, Linda learned:
I am a pharmacist; I count pills for a reason. I know the mechanics of grooming, but I am not an artist. I never knew how to put on eyeliner and mascara correctly until I showed dogs! When you see those dogs at Westminster, hours and hours have gone into the grooming of those dogs. 

There's a lot of discipline involved in showing a dog, there's a lot of hard work, there's a lot of sportsmanship. When you are in the ring, everybody congratulates the person who wins.

When things don't go the way you wish they had in the ring, that's not the place to get mad, you take it back to the set up, and let it go.

Competition is important, but friendship is also important. Once, during a show at the Reliant Center in Houston, one of the snack bars had a fire. We had to evacuate the building with 3000 dogs. A handler might have 20 dogs–you can not walk out with 20 dogs! People like myself who only had one dog helped. It was amazing to see the same people who were competing were now working together to get 3000 dogs out of the building to stand in the Texas heat in July.

Dog showing is a family. And one of the things with covid, because a lot of shows were closed or shut down, I missed my other family!

Dogs are very intuitive. They are happy all the time. They are very forgiving; they have taught me to be forgiving. 

Dogs are good listeners. Dogs do the things we need to do most: listen and not say anything.

Dogs have taught me about discipline. They have helped me on the mornings that I don't feel like walking. They are ready to go every day. It didn't matter if it was hot, raining or snowing. [My dog] wanted to go walk. Eventually I'd have two paws on my chest, and a face in my face saying it's time to walk. On those mornings when I don't feel like getting up, my dogs tell me it's worth getting up.

Dog showing has helped me to be more confident in myself. Olivia's trick dog title–I was just going to watch–some of my friends said, "Oh, you can do this." I was scared, but I did it, and we came out with a trick dog title. You

can

teach an old dog new tricks! Don't be afraid to step out.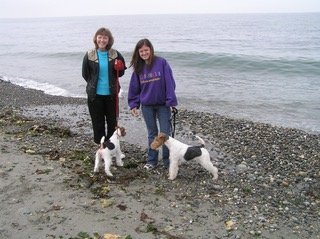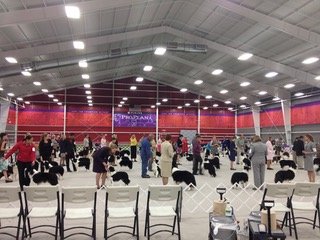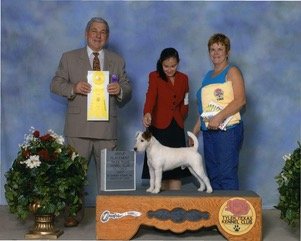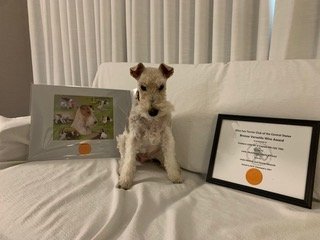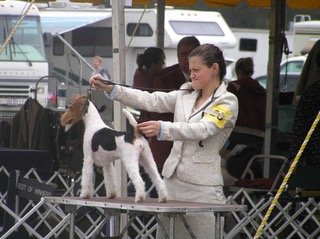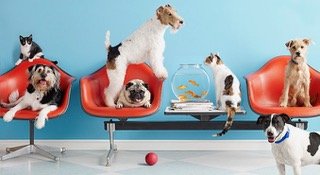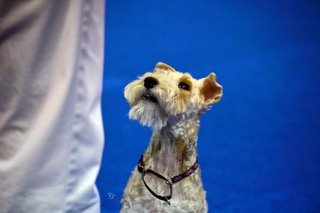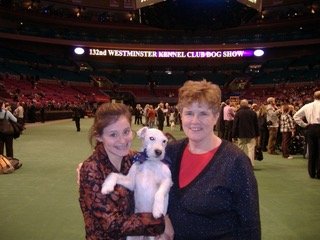 Linda is a member of the Wire Fox Terrier Club of the Central States (WFTCCS), the American Fox Terrier Club (AFTC), the Lone Star Fox Terrier Club, and the North Texas Terrier Club, and has served in official capacities for each. She also has been active in rescue. "There is nothing more rewarding than to take a dog that someone has put out or mistreated, and find that dog a forever home," said Linda. She also completed home visits for prospective dog owners, and "because I travel a lot, I've been involved in transporting dogs. I have always believed in serving and giving back to my profession and my community. I have a strong desire to give back to the dogs I love and the wonderful friends they have brought into my life," Linda said. "I am honored to serve."
"I have old dogs now, I love old dogs," Linda said. "I've often said 'In retirement I'm going to get 10 acres and take in old dogs, and just sit and rock them in my rocking chair.' When those dogs go over the Rainbow Bridge, my goal is to get a wire fox terrier, and be able to groom and show it myself. I want to show it in confirmation, and hopefully finish it as a champion. And then, because I've had so much fun doing dog tricks with Olivia, I'd like to do that as well."
"Dog showing was something I didn't know anything about. It has brought a lot of fun and joy to my life." Because of that, Linda offers this invitation, "I would encourage you to check out a dog show like the one in Dallas, August 21-22. The AKC is having an event they have never done before, called AKC Meet the Breeds.They hope to have representatives of all the breeds AKC registers. I will be there coordinating the fox terrier booth."